KakaoMap - Map / Navigation
1.10.2
Navigation Maps – Explore Korea Yourself
If you are visiting Korea and don't know your way around the country then this navigation app is a must-have for you. KakaoMap – Map/Navigation is a useful app that helps you find restaurants and gas stations located near you in Korea and assists you in navigating to their location. It allows you to search for any place and then get easy and simple-to-follow directions to reach there. You will get the chance to see multiple routes that you can take to get to your destination. There will be real-time traffic information available. So, you will know which route will take you to your location in the fastest possible time. You can even get a street view of the place you want to visit.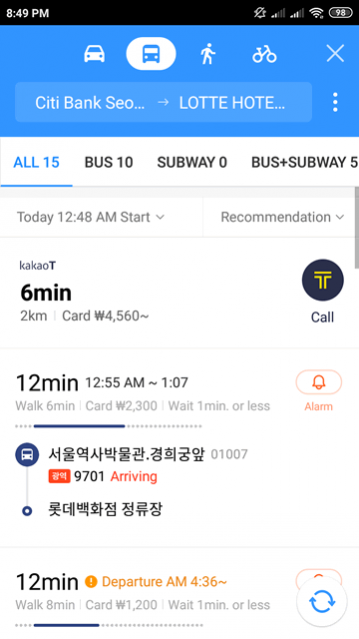 KakaoMap – Map/Navigation has an intuitive user interface that makes it easy to use for everyone. Moreover, the user-friendly design and layout ensure that navigating this app isn't an issue. You can easily use it for reaching any destination in Korea. However, there is a slight problem that you might face. While the menus are in English, some text is available only in Korean. So, unless you know the Korean languages, you won't be able to read or understand it. Still, it isn't going to impede your ability to view the navigation maps that this app has to offer. You are provided a search option that lets you type in your desired destination in English. The app will not only locate the place on the map but will also show your routes to reach it.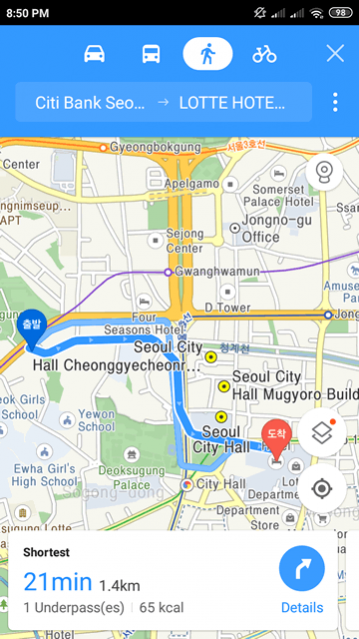 This navigation app lets you set your starting location when creating a route to your chosen location. There are routes available for multiple transport modes. For instance, you will be shown routes that you can follow either on foot or via car. There are also routes provided if you want to travel via bus or the subway. You will find multiple routes for each transport mode. The app will let you know which route is the fastest so you can make your choice easily. You will find three different types of navigation maps to see the route. There is the map view, the satellite view, and a 3D sky view. You can switch from one map to the other with a tap of the finger.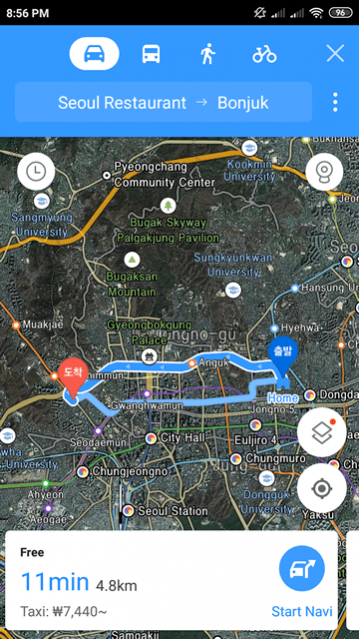 KakaoMap – Map/Navigation doesn't just let you know about the fastest route to a place, it also provides you directions on how to get there. If you are driving to the location yourself, the app provides a safe driving mode that you can enable. In this mode, you are given directions for each turn that help you reach your desired location safely. Aside from the navigation maps that are available to you in this app, there is a comprehensive map of the subway lines available too. You can use it to find out which subways can be used for reaching the place you want to visit. This navigation app also provides theme maps to you which allows you to explore Korea yourself.
Features:
Intuitive user interface
User-friendly design and layout
Find gas stations located near you
Search for any place and locate it on the map
Get directions for reaching your desired location
Find multiple routes to navigate to your chosen place
Routes available for multiple modes of transport
Different types of navigational maps to look at
Safe driving mode for reaching your desired location safely
A comprehensive subway map
Live traffic information on offer
Real-time information regarding buses
Explore Korea with theme maps
Conclusion:
KakaoMap – Map/Navigation is an app that is marketed towards people who are touring Korea for the first time. It provides them the opportunity to explore the country without the need of a guide by providing navigation maps to all the locations. It is a navigation app worth having on your phone if you haven't visited Korea before.
---
Add a review
Tell us your experience with
KakaoMap - Map / Navigation
1.10.2
RELATED PROGRAMS
Our Recommendations
---
---
---
---